The typhoon Ondoy has caused a massive impact to the Philippines, especially in Metro Manila and regions of Marikina, Quezon and Rizal. In just a matter of time, people, animals, appliances and vehicles were all washed away by the raging rainstorm.
(www.timesonline.co.uk)
(news.xinhuanet.com)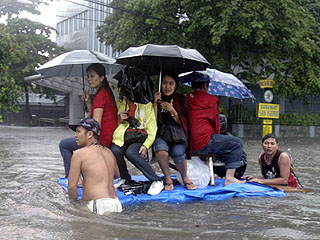 (www8.gmanews.tv)
There were so many casualties, so many people who needed assistance, not only financially, but through supplies of food, water and clothing. On that fateful day that Ondoy poured its way into our lives, many were left in despair, anguish and pain. There were sacrifices made, like the story of Mr. Magallanes (May his spirit rest in peace.) who had saved more than 30 people during the rampaging storm and water current.
See this link for more details:
http://www.theage.com.au/world/philippine-man-loses-own-life-after-saving-dozens-from-floods-20090928-g8o4.html">
Gratitude is what I'm feeling right now that my family is safe, we haven't experienced that much, but my heart reaches our for those who weren't that fortunate. Human is never that strong enough to withstand the power of nature, amidst studying science, calamities for how long history can tell. This helps us to be more wary, more prepared and conscious of our actions towards Mother Nature. We can never predict accurately when or how storms, landslides or tsunami will hit our country. All we have to battle them with is good preparation.
But right now, let's all work together. Through different means, let us extend whatever help we can give, may it be through walk-in donations, pledges or prayers. These victims need them. Let us give them the reason not to give up on living.
As the song goes, "The Lord's our Rock, in Him we hide, a shelter in the time of storm ..". Keep on trustin' and believing. Everything happens for a reason.
(http://carnageandculture.blogspot.com)
*For more inquires, you can visit the following sites:
http://www.google.com/landing/typhoon-ondoy.html
http://www.redcross.org.ph/Site/PNRC/wtd.aspx
(I apologize if the picture is shown incomplete)